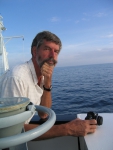 Prof. Dr. Jean-Pierre Henriet
Geologist/Geophysicist, professor UGent, head of RCMG
Welcome on board of Belgica's "HERMES-Geo" cruise, host of the Class@Oceans 2006. My name is Jean-Pierre Henriet, and I am professor in Marine Geology and Geophysics at Ghent University. When I was 14, I saw a film sponsored by BP in the framework of the International Geophysical Year, at the end of the fifties. It showed a bold transantarctic expedition surveying the ice continent with rugged vehicles and seismics. So I dreamt of rugged explorations and remote horizons, and wrote to BP asking how you could become a seismic explorer, and how you get to the Antarctic. I received a detailed, two-page long personal reply, tracing the way to careers in the exploration of our planet with geophysics, in particular in the upcoming offshore industry. Preferring basic science, I became a 'science exploration geophysicist', went to the ocean and to the Antarctic, hunting for provocating questions. Now I am the proud 'boss' of a scientific dream team - RCMG - a nest of young sea eagles stretching their wings over the seven oceans. They are eager to share their passion. So don't be shy, just write if you want to know more about the exploration of the ocean (but do not expect two pages automatically, times have changed…), and share our action through Class@Oceans.